At Salem Tax & Financial we pride ourselves on being able to offer you tax-efficient strategies for all aspects of your financial life. Our understanding of your tax situation, and ongoing contact with you, means that we can tailor our advice to your specific financial needs, and adapt it to your changing circumstances.
We specialize in: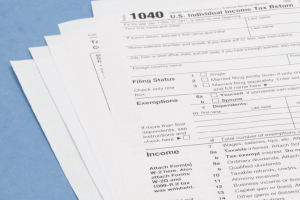 Tax return filing and tax planning for individuals
Bookkeeping and financial statements for small businesses
Corporate tax return filing
Annual participation in Continuing Professional Education courses offered by local chapters of national tax and financial associations keeps our firm on the leading edge of ever-changing tax laws and financial regulations.
We provide several methods to efficiently, and securely, share data with clients who find it convenient to communicate electronically. Annual software enhancements, scanners, and digital records ensure clients accurate, efficient, state-of-the-art service at a competitive price.

Visit the Services area of our site to learn more about the many accounting, tax, and financial services available to individuals and businesses.

Our company president, Tyler Buck, (named for her vivacious great aunt) is constantly looking for ways to improve the tax and financial services we offer. Feel free to contact the office anytime. We're here to help.
About Us:
Tyler Buck, PhD
Tyler Buck, president of Salem Tax & Financial, Inc., is adept at combining her knowledge of financial services along with her experience as a tax consultant and business accountant. She started her career in Britain as a financial advisor with an internationl bank, specializing in retirement, investment, and succession plans for business owners.
In the nineties Tyler moved to Massachusetts and joined the corporate tax department of a British-American company. After a company merger she was offered a position as the Senior Tax Accountant for the "Financial Times" in NYC. Instead she remained in New England as the CFO of a tax software firm. Early this century Tyler joined her former tax instructor as co-owner of Salem Tax & Financial.
Tyler is particularly expert in dealing with issues of New Hampshire residents who work in Massachusetts and other states, as well as those resident abroad. As a testament to the service and value thay receive, many of her clients who have moved to other states continue to return to her for tax preparation and financial advice. Her knowledge and expertise allows her to utilize tax law to it;s fullest extent, resulting in the taxpayer paying the least amount of tax allowed by law.
Richard L. Travaglino, EA, MST
Rich Travaglino, company founder, was a graduate of Suffolk University in Boston, where he earned a Masters of Science in taxation (MST), and for a time also taught courses in taxation. Rich's other professional designation is Enrolled Agent (EA).
An Enrolled Agent is a tax specialist who is granted a license by the IRS to practice and represent clients before the IRS. If you have a current or a past problem, an Enrolled Agent can represent you so that you don;t have to deal directly with the IRS yourself. The license is granted after passing a two-day examination in taxation administered by the IRS. To maintain this professional status, Enrolled Agents must keep up with changing tax laws, and earn numerous continuing education credits each year.
Rich started his tax career in Massachusetts and came to Salem, New Hampshire in the early 1990's to work with the more complicated situations that apply to "multi-state" tax filers.